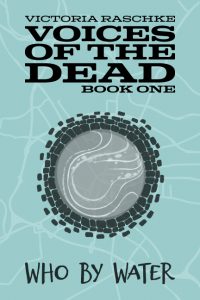 Jo Wiley runs a punk rock teahouse in the heart of the Slovenian capital and keeps her string of friends with benefits on a tight schedule. The one thing she hasn't made time for on her calendar is saving the world.
When the body of one of Jo's lovers is discovered among ancient Roman ruins, a curtain is drawn back on a hidden world of ghosts, demons, and forgotten gods where Jo is the link between the living and the dead.
Archeologists digging through two thousand years of history can awaken more than an interest in a city's past. A dark presence that had laid hidden beneath Ljubljana's streets has a long memory and a keen interest in Jo.
As more bodies turn up, it becomes clear it's going to take more than Jo's characteristic snark and her new ability to chat with ghosts to keep an ancient evil from being unleashed on the world.
Purchase ebook
Purchase autographed copy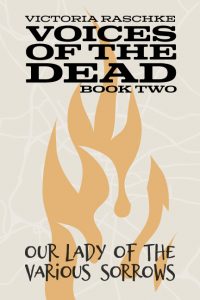 Jo Wiley can talk to the dead. As fascinating as that may be, she would much rather go back to her old life of slinging tea and making fancy sandwiches. A month in a secluded farmhouse in the Slovenian Alps is exactly what she needs to hide out from both her personal demons and the dead who haunt her in Ljubljana.

What she gets is a secretive local ghost and a visit from an ex-lover who is nothing but bad news—bad news Jo is going to have to deal with immediately.

Her appearance as a new Voice of the Dead, has reignited an old war between ancient gods with human faces and humans who wish to be as powerful as the gods. Jo and her son are right on the battle lines and who their allies are has become very unclear.

Jo soon realizes her role in this war is more determined than she'd ever imagined and that she may have to make the ultimate sacrifice to save those she loves most.
Purchase ebook
Purchase autographed copy
There's no handbook for being a Voice of the Dead, but one rule of existing behind the Veil is keeping a low profile. Jo Wiley is really bad at keeping quiet.

Her mother is dying—for real this time—and even though there's no love lost between them, Jo feels duty bound to go home and see her mother off to the next world. She would much rather be in Ljubljana where she can keep an eye on her son and a certain former priest.

With Jo away, her friends are left to deal with Bettine, a member of the Board sworn to keep the supernatural hidden, who has announced a visit to investigate the events of the past year. Her presence threatens to bring the full power of the Board down on everyone associated with Renegade Tea.

Jo returns to Ljubljana to discover it wasn't just her family keeping secrets. With her world ripped apart, she has to rely on her ex and her anger to keep Bettine and the Board from destroying everything she has left.
Purchase ebook
Purchase autographed copy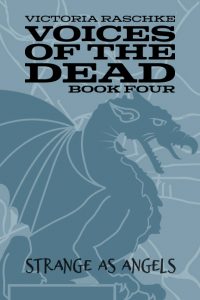 If Jo Wiley has learned one thing, it's to never trust a god, especially if he's her ex.

Stranded in the underworld and wanted by the Board tasked with keeping the supernatural secret, Jo Wiley is desperate to return to her life in Ljubljana—or what's left of it after her friends and family were forced to scatter to protect her and themselves.

Črnobog, the dark god of Slavic myth and Jo's ex, has had plenty of time to set a plan in motion to reclaim a reenchanted world for the old gods. As Jo gathers the pieces she needs to return home, she has no idea she is playing right into his hands.

In order to save the world and keep the darkest imaginings from humankind's nightmares at bay, Jo is forced to make strange alliances and an unforgivable choice.
Even if she succeeds, nothing will ever be the same.
Purchase ebook
Purchase autographed copy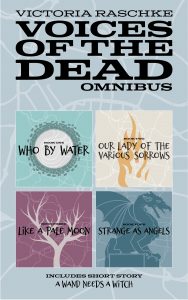 Jo Wiley runs a punk rock teahouse in the heart of the Slovenian capital, tries not to pry too much into her adult son's life, and keeps her string of friends with benefits on a tight schedule.

When one of those friends is found murdered at an ancient Roman ruin, the death pulls Jo into a whole reality of weirdness she never knew existed. She discovers she can talk to the dead and she isn't too happy with what they come to tell her.

Can she save the world from demons, vengeful magic workers, and the occasional rogue deity and keep her business alive? Brew up a cup of your favorite tea and find out.

This Omnibus edition includes the short story "A Wand Needs a Witch" as well as all four books in the Voices of the Dead Series.
Craving a scone and a cuppa with a side of graffiti art? Feed your curiosity and your hunger with Renegade Tea's best recipes for staying warm on a chilly day or kicking back with the Ramones on repeat.

Raschke draws on her experience as a culinary instructor and caterer to bring the menu and daily specials of Renegade Tea to life with helpful hints for novice and advanced cooks, including a quick-glance guide for brewing tea.

Recipes include teahouse favorites like Jo's decadent brownies and Fred's transformative soups with influences from the Southern U.S. to India. You'll also find a few witchy tips and staff updates along the way.

Put your apron on, crank up your favorite punk playlist, and let's make some culinary magic!
Purchase autographed copy (hard cover only)
Purchase ebook: Kindle Apple Books B&N Kobo